In May 2006, I launched Seanachie Nights (Seanachie is the Celtic word for storyteller): a monthly series of musical storytelling performances from Celtic and British culture that introduces the old stories - with all their comedy, tragedy, and adventure - to an adult audience.
Seanachie Nights is usually held on every third Monday of the month. Admission: Free ($9 suggested donation). Email Lynne Cullen at thetwacorbies@yahoo.com or call 207-805-1062 for further details.
Monday, July 16, 7-9 PM
Bull Feeney's Irish Pub/Restaurant, 375 Fore Street, Portland, Maine
Actor and storyteller, Libby Franck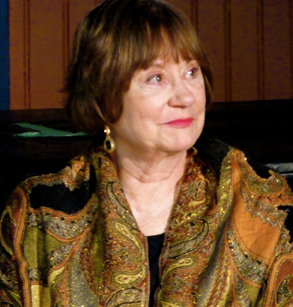 Actress/storyteller Libby Franck tells stories of the great Maine author and storyteller, Ruth Sawyer.

Ruth Sawyer (1880 -1970) was born in Boston, MA. While she was still a baby the family moved to New York City. The daughter of a wealthy family, Sawyer had an Irish nanny named Joanna, who inspired her love of storytelling. Upon the death of her father, the Sawyers - in financial straits - moved to their summer cottage in Maine, an experience that Sawyer described in her novel, The Year of Jubilo. They taught themselves how to live off the land. Salmon and lobster were bountiful right off the shore, and even today, early risers can see the lobster boats pulling their traps. Their cottage is now a beautiful inn. You can learn about it here: www.victorianbythesea.com

Ruth Sawyer's storytelling journey took her from New York City to Cuba during the Spanish Civil War, which inspired her to write: My Spain: A Storyteller's Year of Collecting. Her best-known book is The Way of the Storyteller.

Libby Franck is a storyteller and a historical re-enactor. In previous appearances at Seanachie Nights, Libby has portrayed Australian convict Mary Bryant in "The Girl from Botany Bay", and told Italian folktales of Italo Calvino. With a group of folk singers and musicians she has performed: "The Outlaw Hero," "Victorian Humor," and, "Drinking: the Musical - The Social History of Taverns and Temperance."


For more information about Libby, please visit www.libbyfranck.com

Monday, August 20, 7-9 PM
Bull Feeney's Irish Pub/Restaurant, 375 Fore Street, Portland, Maine
British storyteller Simon Brooks
With his bodhrán, Simon Brooks performs tales with energy and wit. Performing to any size audience and retaining the intimacy of a one-on-one conversation is an experience not to miss. Telling folktales, myths and legends from all over the world, he brings characters vividly to life. From this world of stories, Simon captivates his audience with unique voices to animate characters, and with expressive body language he truly brings the stories to life.
For more information about Simon, please visit http://www.diamondscree.com
Monday, September 17, 7-9 PM
Bull Feeney's Irish Pub/Restaurant, 375 Fore Street, Portland, Maine
Kate Chadbourne in: 'The Coming of Autumn - Celtic tales and songs'

Kate Chadbourne is a singer, storyteller, and poet whose performances combine traditional tales with music for voice, harp, flutes, and piano. She holds a Ph.D. in Celtic Languages and Literatures from Harvard University where she teaches courses in Irish language and folklore - but the heart of her understanding of Irish folk tradition comes from encounters with singers, storytellers, and great talkers in Ireland.
"Could anything be lovelier than the chance to return to Bull Feeney's enchanted room and the warm hosting of ... Lynne Cullen? You can feel the richness of dozens of storytellers and singers who have filled this room with their magic, and I am honored to join them on a September night. And to weave my own spell so close to the sea in the company of beloved friends and family ... and you." - Kate Chadbourne
For more information about Kate, please visit www.katechadbourne.com

Monday, October 15, 7-9 PM
To Be Announced!
Monday, November 19, 7-9 PM
Bull Feeney's Irish Pub/Restaurant, 375 Fore Street, Portland, Maine
Virginia Storyteller Sheila Arnold Jones
We are excited to present, for the first time at Seanachie Nights, Sheila Arnold Jones of Hampton, VA. She is a Professional Storyteller, Character Interpreter and Teaching Artist. Through her company, 'History's Alive!', Sheila has provided storytelling programs, historic character presentations, Christian monologues, dramatic/creative writing workshops, professional development for educators and inspirational/motivational speeches at schools, churches, libraries, professional organizations and museums, in 29 states since 2003.
She has two books: a picture book, 'Weeping Willow', or, 'Why the Leaves Change their Colors', and an historical fiction using biblical persons, 'David's Mighty Man: Benaiah'. She also has two storytelling CDs, 'Mini, Many, Minnie Tales' and 'Hands Wide Open'. An new addition to Sheila's titles is 'Historical consultant' - helping museums and exhibit designers find the story, and how to share it, from historical documents, artifacts, buildings and the historical use of land and water.
Books can be purchased by contacting Sheila at sheilaarnold39@aol.com and the CDs are available through her website, www.mssheila.org and for download at CDbaby.com.
Monday, December 17, 7-9 PM
Bull Feeney's Irish Pub/Restaurant, 375 Fore Street, Portland, Maine
Balladeer Peg Aloi
Peg Aloi will share Celtic ballads and poetry in celebration of the winter Solstice. Most modern pagans acknowledge Yule as the rebirth of the light half of the year; some traditions perform the play of the Oak King and the Holly King, just as it is done at Midsummer, to mark the change of the seasons as one of them reigns over the other.
Peg is a traditional singer from Troy, NY, who has sung and recorded music with a number of groups throughout New England. She has also hosted open mics and bardic circles via the pagan festival circuit for several years